Healthy skin comes from more than just what you put on it. It comes from how you live, how you nurture your physical body, the energy within it and even how you think or your emotional state. This interconnected approach to health and beauty has long been appreciated by ancient cultural traditions and healing medicine.
At Sachi we believe the skin exists more often in states than types. The state of our skin is constantly evolving throughout the day and throughout our lifetime. It also changes depending upon many factors like ageing, hormonal changes, life events, lifestyle, physical, mental, emotional, seasonal or environmental factors. From relationship break-up anxieties to living in a polluted air environment this all impacts the state of our skin.
At Sachi Skin we recognise this interconnected approach to good skin health and well-being to prioritise the whole you. Recognising for example a good mental and emotional state is just as important as a well thought out routine. Our philosophy emphasises the importance of self-care and well-being and recognises that lifestyle and emotions can also affect skin health.
This also means your skin will fluctuate over time, your current state will not reflect your future states and this is normal, it's a skin journey. We want you to know that we are all a work in progress and your current state does not define you.
Yet whatever state you are in, we want you to know you are beautiful in every state.
Farah Bashir
Founder of Sachi Skin
We believe in Skin States over Skin Types™
Some factors affecting your States of Skin®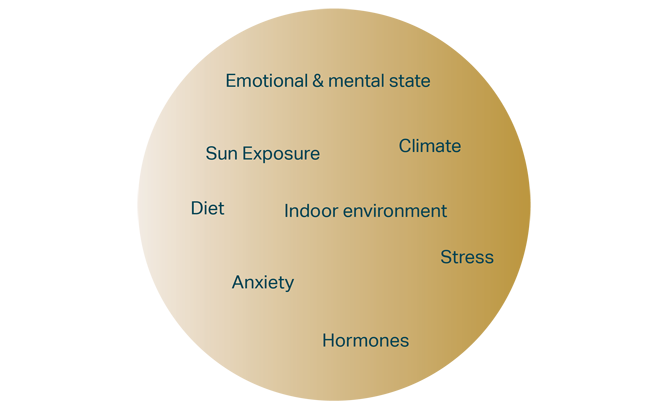 STATES OF SKIN IT'S A JOURNEY FUTURE STATES™ YOU ARE BEAUTIFUL IN EVERY STATE STATES OF SKIN IT'S A JOURNEY FUTURE STATES™ YOU ARE BEAUTIFUL IN EVERY STATE
Listen to
Your Current
States of Skin™