WELCOME TO SACHI SKIN
THOUGHTFUL BEAUTY CREATED FROM A PLACE OF DEEP UNDERSTANDING AND CARE FOR DIVERSE SKINS, WITH A GOAL OF HEALTHY SKIN FOR ALL.
THE
THOUGHTFUL 7™
Skin evolves over time. It is affected by many factors, both internal and external. With this in mind, we created smart and effective solutions that not only help address multiple states and streamline your routine but also empower you along your skincare journey.

There is no such thing as perfect skin. Your skin fluctuates from day to day. It depends on our physical, mental, environmental state and many other factors. Healthy skin is what we strive for.

The beauty industry has to move past words like anti-ageing. Ageing is inevitable, and a privilege for so many of us. We can't stop ageing, but we can age well.

We use advances in science and clinically proven active ingredients to create safe, reliable and transformative best-in-class products to deliver visible results, today and tomorrow.

Our formulations are selected to contain only high-quality, multi-targeting active ingredients and ancient botanicals that are great for streamlining skincare routines.

We believe in a consistent approach to good skin health rather than overwhelming your skin.

The universe loves diversity. Diversity is our strength, our power.
Listen to
Your Current
States of Skin™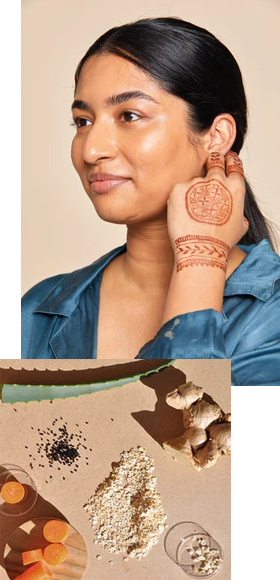 OUR APPROACH TO SKINCARE
SKIN STATES OVER SKIN TYPESTM
Here at Sachi Skin, we believe that products which target skin states are more effective than those designed for skin types. By focusing on Skin states™, we redefine skincare.
ANCIENT CLINICAL SKINCARETM
We have created an innovative approach to skincare which values old-world ayurvedic healing remedies while embracing innovations in dermal science, for visible skin results, today and tomorrow.
TRUE INCLUSIVITY
Keeping melanin-rich skins in mind, we develop formulations that consider diverse skins and their needs. Our formulations are backed by a team of experts, with clinically approved ingredients that are effective for all skins.
THOUGHTFULLY CREATED SAFE FORMULATIONS
We vet our ingredients for efficacy, skin compatibility, and safety standards following EU regulations. Our products are created using safe, scientifically proven, results-driven formulations and technologies.
MADE FOR OUR SKIN MADE FOR OUR SKIN MADE FOR OUR SKIN MADE FOR OUR SKIN MADE FOR OUR SKIN MADE FOR OUR SKIN MADE FOR OUR SKIN MADE FOR OUR SKIN MADE FOR OUR SKIN MADE FOR OUR SKIN MADE FOR OUR SKIN MADE FOR OUR SKIN MADE FOR OUR SKIN MADE FOR OUR SKIN MADE FOR OUR SKIN MADE FOR OUR SKIN
OUR WORLD
IT'S DEEPER THAN SKIN™
PRIORITISING SKIN HEALTH & MENTAL WELL-BEING
We believe in the interconnected approach to good skin health and wellbeing, prioritising not only good skin, but also mental and emotional well-being too, something that has long been practiced in ancient healing traditions.
A good state of mind is just as important as a well thought out routine. Which is why we have created tools like the Sachi Journal and the free Hyperpigmentation Ebook. We want to empower you along your skin journey and support you in your personal growth toward a happier, more confident you.
STATES OF SKIN IT'S A JOURNEY FUTURE STATES™ YOU ARE BEAUTIFUL IN EVERY STATE STATES OF SKIN IT'S A JOURNEY FUTURE STATES™ YOU ARE BEAUTIFUL IN EVERY STATE
What does SACHI SKIN mean?
Sachi (pronounced as [Saa-chi]) has ancient meanings rooted in poetic and beautiful languages of the East. In Urdu سچی , it means "being truthful/expressing the truth", in Sanskrit/Hindi (सच्ची) it means "grace/truth/child of joy" while in Japanese (さち), it means "happiness/child of bliss".
Just as 'Sachi' has similar meanings across languages, it reminds us that despite our differences, diverse cultures and skin colours, we are all interconnected in many beautiful ways.
'Sachi' is a reflection of our brand values, to honour our roots, ancient cultures, our desire for truth in ancient wisdom, dermal science and education – above all a goal for skin that illuminates health and happiness.
A SACHI STATES OF SKIN® = "A happy state of skin"
How to pronounce SACHI [Saa-chi]
Farah
Meet The Founder
"I believe that truth in ancient wisdom, innovations in dermal science and a change in the beauty narrative has the power to transform both you and your skin."
Nothing is ever black and white
We formulate based on EU regulations and work with ingredients that are high in quality and efficacy.