We're transforming the way you think and feel about your skin.
Bringing your skin to its healthiest most balanced stateTM
Advanced dermal technologies meet Ayurveda to bring your skin to its healthiest state. Timelessly effective formulas for hyperpigmentation, persistent breakouts, ageing and reactive skins. Made with diverse skins in mind, always.
TRIPHALA PIGMENTATION
CORRECTOR
SKIN STATESTM: HYPERPIGMENTATION, DULLNESS, AGEING
After four years of consumer-testing and clinical-testing, we formulated a first of its kind–non-AHA/BHA, non-retinoid and non-hydroquinone–serum housing twelve powerhouse brighteners, peptides, antioxidants and healers to deliver antioxidant defence which fades the appearance of dark spots for even skin.
SHOP THE SACHI SKIN COLLECTION
For brightening, dark spots, clarifying and well-aging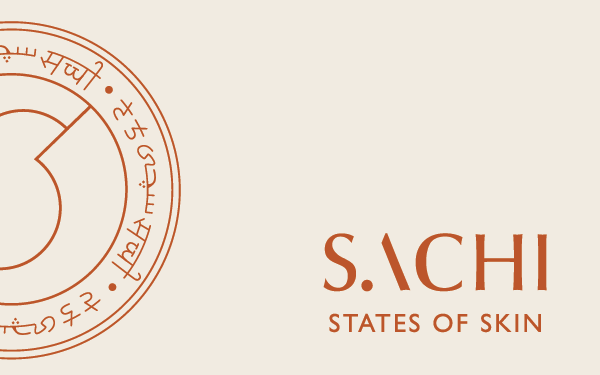 Start your day on a bright note.
Click Affirmations of the day or Surprise me to change your state of being to a beautiful, positive, and powerful state.
Powered by a New Way of Thinking
STATES OF SKIN®
'To be human is to live in a constant state of change' - Farah (Founder of Sachi Skin)
We are all a work in progress. Recognise your skin journey and understand that your skin fluctuates from today to tomorrow, depending on physical, mental, environmental and many other factors. It's okay, it's normal, it's a journey. Your Skin States™ does not define you.
Remember, you are beautiful in every state.
Learn more
IT'S A JOURNEY Future States™ YOU ARE BEAUTIFUL IN EVERY STATE IT'S A JOURNEY Future States™ YOU ARE BEAUTIFUL IN EVERY STATE
We are Thoughtful Beauty
Environmentally
Conscious
Priotitising Mental
Wellbeing
"I was introduced to Sachi Skin through a friend, and the brand has changed my skin. The products promise healthy skin above all. The Triphala Pigmentation Corrector contains Ayurvedic ingredients such as amla and triphala. Hyperpigmentation and redness are two concerns that many people struggle with, especially POC, and I swear by this product to help diminish dark spots and soothe redness." (Triphala Pigmentation Corrector)

BYRDIE
Vogue editors purchased and loved: "It's only been a few weeks but it's sensational. I am sensitive to any retinol I've tried and here it just results with no irritation. The triphala is also amazing, they are so gentle but work so well. My skin is already clearer, smoother and your packaging is beautiful too. Just thought I'd share how happy and impressed I am. Cannot praise these enough, and I'll be restocking!" (You Set The Tone Duo II)

VOGUE
"Hormonal-related breakouts are made more tolerable with this powerhouse on our side. Comprising powerful salicylic acid, manuka honey, and glycerine, Sachi Skin's Complexion Clarifying Accelerator skillfully eradicates stubborn breakouts without causing any sensitivity or irritation. We observed lightened pigmentation marks, too, thanks to its gentle exfoliating abilities. Its unique dispensing packaging also ensures that you get the perfect amount each time...Convenience at its finest. A round of applause all around, please." (Complexion Clarifying Accelerator)

BURO
"How to Treat Melasma, According to Dermatologists: 4 Best At-Home Melasma Treatments (Triphala Pigmentation Corrector)

Marie Claire
"Lately, I've been dealing with breakouts on my chin and have tried several products to clear up the area, but this is the only one that's given me quick results. In addition to targeting the blemish-prone lower portion of my face, it also smoothened the appearance of fine lines on my forehead."(Complexion Clarifying Accelerator)

FASHIONISTA
"I found Sachi through the amazing founder Farah and a few other skinfluencers and I love everything about it, especially Farah's approach to providing key information about hyperpigmentation and her devotion to healthy skin rather than perfect skin. One aspect that sticks out is representation and you can actually see the results on different skin tones, including on darker tones, like mine...I absolutely love the Ursolic Acid & Retinal Overnight Reform. It's a lightweight gel cream that's helped simplify my night routine significantly. Formulated with a blend of ingredients that target my concerns, it's really helped improve the texture and tone of my skin."(Ursolic Acid & Retinal Overnight Reform)

STYLIST
SACHI PAPERS
There is Beauty in Our Differences: A celebration of beauty, rituals, skin education, science, culture and diversity.
Real Results
Over a 28 day period the complexion is more homogenous, uniform and radiant. However, we recommend at least 3 months of consistent use for optimal results.
Clinically proven to brighten the skin appearance by 30.5% in 28 days.
92% reported that the serum made their skin look more even.
90% reported they would recommend the treatment.
82% reported treatment improves skin discolourations.
Listen to
Your Current
States of Skin™
Dermatologist and Expert reviews